A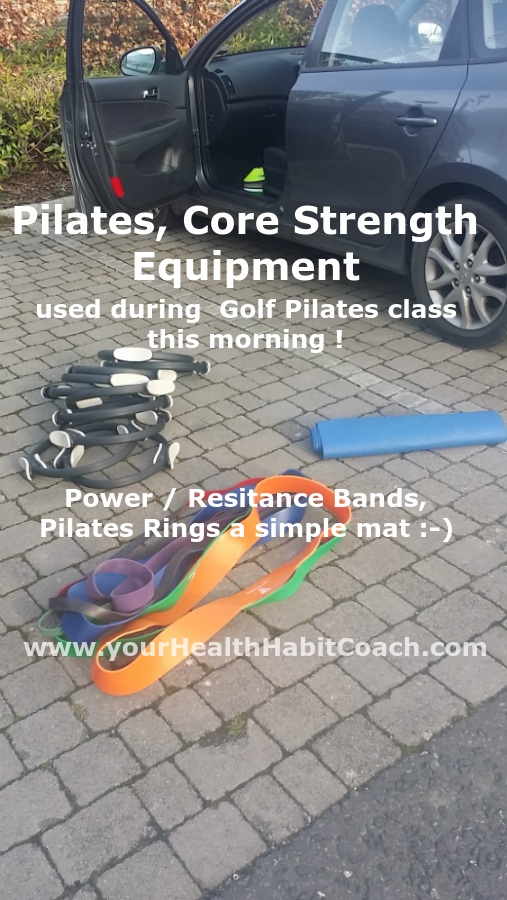 nother successful "Pilates for Golf" – "Pilates for Golfers" class this morning just outside of South Dublin in Enniskerry for a group of guys who want to improve their (1) Core Strength, (2) Mobility and (3) Flexibility to up their Golf Game!
I introduced (see picture beside)
1. Pilates Rings to boost Core Strength and Increase Flexibility.
2. Resistance-Bands (sometimes also called Power-Bands) to work on general strength and once more Core Strength.
We went through the following Partner Exercises with the Resistance-Bands.
2.1. Partner One-Arm Pull (for upper back strength, and core strength)
2.2. Partner Two-Arm Rotation / Upper Body Twist (for oblique strength – waist toning and strengthening)
2.3. Partner One Arm Chest-Press (for Upper Body – Chest – strength, shoulder stability and a bit core work)
2.4. Partner One-Arm Lateral Draw (for oblique / core strength)
Over the remaining week of this block of Core Strength and Pilates Classes we will also introduce
(1) the Swiss-Ball / Gym-Ball
(2) Gym-Sticks
(3) possibly medicine / weighted balls
to keep they Golfers challenged and interested.
Let me know if you have any questions in relation to those Resistance-Band exercises.
Martin