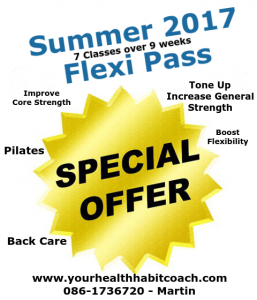 Over the remaining summer months June,  July and August 2017 you can avail of our
Flexi Pass – Fitness, Toning & Pilates Summer Special
** 7 Classes over 9 weeks ** in South Dublin
Sandyford, Leopardstown, Rathfarnham, Willbrook, Whitechurch, Dundrum, Dublin 18, Dublin 16, Dublin 14.
• Book 7 Fitness or Pilates Classes and use them over an 9 week period.
_ This offer is valid for the following weeks (week of Monday 26th June, 10th July,
_ 17th July, 24th July, 21st July, 7th August, 14th August, 21st August, 28th August.
_ There *won't* be any classes during the week of Monday 3rd July  2017.
.
• This allows to cater for you going on holidays or being away.
• There is a maximum of 8-10 class participants
• Pilates, Stretching or Yoga mats
_and various Pilates equipment (Pilates Rings,
_Balls, Foam Rollers, Resistance Bands,
_Gym Sticks etc.) are provided.
• €87.50 for 7 classes over 9 weeks – You might attend 8 or 9 classes if the dates suit.
_ •  The fees for 8 weeks is €100, for 9 weeks is €112.50. 
_ •  Trial or Drop-ins, Pay-As-You-Go Classes are possible is availability allows €14/class.
• This offer is valid for my Wednesday Morning Class, and my Evening Classes on
_ Tuesday and Wednesday night.
• View a full Class Timetable here.
• Classes take place close to Stepaside, Belarmine, Sandyford Industrial Estate, , Leopardstown, Lambs Cross, Marlay Park.
[fullstripe_checkout form="7ClassesOver9wksSummer2017″][fullstripe_checkout form="PilatesDropIn"]
Contact Martin for details or to book your place.