Check Martin's >>> Live-Video - Online Pilates Class - Website - www.PilatesOnline365.com <<< as,

all local In-Person *Group* Pilates Ćlasses are put on hold due to the governments Covid-19 Risk Level 3 guidelines and regulations. .
Local South Dublin Pilates Classes will restart once restrictions are lifted.

Call / Email Martin, if you are
interested in One-to-One or Personal Pilates Classes/Sessions or
with any class related question you have.

---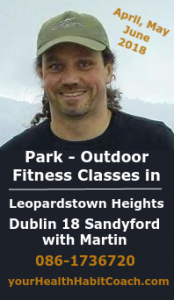 Do a Trial or Drop-In and sample my *new* Park / Outdoor Fitness, Toning and Weight-Loss Class in September, October 2019 in Leopardstown Heights, Sandyford, Dublin 18.
.
The classes are here to get you fit or fitter, you don't have to be fit to join in and benefit from the support of Martin and your fellow class participants!
We will use various fitness and exercise equipment e.g. TRX – Suspension Trainer, Medicine Balls, Kettlebells, Skipping ropes etc. and most versatile exercise equipment on earth – your own body 🙂
PS I'm not keen on "Bootcamp" classes, as I don't think it is necessary or good to shout and scream at class participants. Most people look rather, what I aim to provide, for (1) Positive Encouragement, (2) Motivation, (3) a certain degree of Accountability and (4) Education so you can apply what you learned outside of the classes to boost your fitness and health.
.

Below the fitness & exercise class details :
.(1a) Location: Leopardstown Heights, besides Sandyford Hall, the Gallops, near Aiken's Village, Belarmine, Kilgobbin Woods and Sandyford Village.
The classes will take place on or near the MUGA (Multi-Usage Games Area, a basketball court / small five-a-side soccer pitch) in Leopardstown Heights on the large green.
.
(1b) Google Map with Class Location (see orange Marker) or see an embedded Google Map at the bottom of this page, click the "-" minus symbol (bottom left corner) to zoom out to see more.
(2) Suitable for:  All Fitness Levels, ages, genders, women and men are welcome.
(3) New Classes start, once I got sufficient numbers >>> in September 2019!
(4) Time: 10am-11am
(5) Price, Fee: 8 weeks €80, drop-in, pay-as-you-go €12 Simple Online payment available below!
(6) Note: There will be *no* classes on *bank-holiday Mondays*
.
Contact Martin with any questions you might have or simply pay online / book below to get started and 
to get Fitter, Timmer and Slimmer.
[bookly-form category_id="0″ service_id="10″ staff_member_id="10″ hide="categories,services,staff_members,date,week_days,time_range"]
Join Anytime (pro-rata if an 8-week course has already started)
Please fill out a health screening form before you join and bring it along to your first class.
[fullstripe_checkout form="MUGAclasses8x"][fullstripe_checkout form="MUGAclasses4xDeposit"][fullstripe_checkout form="MUGAclassesDropIn"]