Online Classes (LIVE Classes and Pre-Recorded Classes) will soon be available on www.PilatesOnline365.com – please send me an e-mail via the Contact-Us Page on www.PilatesOnline365.com if you are interested in those Online Classes, so I can contact you once I'm going live with the first classes. Thanks Martin
---
.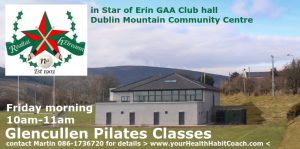 Join my Glencullen *Morning Pilates Classes* to
(1) Get Fitter
(2) Tone-Up
(3) Improve Posture
(4) Boost your Energy Levels
(5) Increase Strength & Muscle Tone
… in 2019 !
The classes take place in the Star of Erin GAA Club hall or also referred to a "The Dublin Mountain Community Centre" in Glencullen. The class venue is on Ballybrack Road, Glencullen, Co. Dublin, a few minutes walk from  Johnnie Fox's pub, close to Dublin 18, D18, South Co. Dublin.
(1) Our next 7-week block of Glencullen Pilates classes – starts Fridays – mid/late September 2019
___ Trials, Pay-As-You-Go or Drop-Ins Classes are available.  
(2) These Pilates Classes take place Friday 10am-11am
.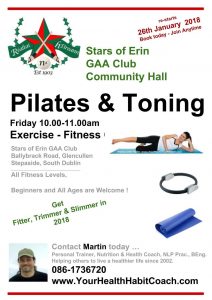 The Majority of the exercises and movements are Pilates-based, some are simple body-weight exercises. I will bring various small pieces of equipment along, so you can try them as well e.g. a Gym or Pilates Balls, Gym Sticks, light-weight Kettlebells, Medicine Balls and other fitness equipment.
My main goals is to show you how easy it can be to stay fit with various simple exercises, once you do them on a semi-regular basis. And having a few friends around that join in and have the same goal makes the whole thing much easier and more fun 🙂 .
Please spread the word and ask your friends to join in.
Find a Street-View of the Star of Erin GAA Club Hall / The Dublin Mountain Community Centre (this was taken before the new community centre was built) here and a normal street map here.
Contact Martin with any questions you might have or for book your class.
4) Class / Course Fees: Payments can be done
(1) cash
(2) via cheque (please issue the cheque to "Fitnecise") or
(3) via a credit card and Visa debit card below (**a small card transaction fee applies)
(4.1) Drop-In, Pay-As-You-Go – €12 ( if availability allows, please contact us before you plan to come along )
(4.2) 7-Week course – €95.00 – 7 consecutive classes
(4.1). Booking Deposit – €50.00 – non-refundable
.
(4.3) Join Anytime (pro-rata if a 7-week course has already started)
Please fill out a health screening form before you join and bring it along to your first class.
.
Please Contact Us and check for class availability before purchasing or paying online.

[bookly-form service_id="4″ hide="categories,services,staff_members,date,week_days,time_range"]