Find my new websites for March & April 2023 here 
(1) www.PilateswithMartin.com and (2)  www.yourCoachMartin.com updated January 2023.
---
Contact Martin today
to learn more about
*Online One-to-One*
or
In-Person Personal Coaching Classes/Sessions
in March & April 2023

to Get Fitter, Stronger, Increase your Flexibility, Mobility and Boost Your Energy! >>to read more - click here !<<
All local
In-Person *Group* Pilates Ćlasses continue as usual in the various local venues.
---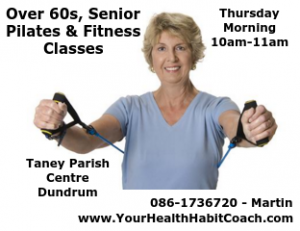 Join anytime in March 2023 – Live Online  (in Taney) – Active Seniors and Over 60s Pilates & Fitness Classes
in South Dublin, Dublin 16, Dublin 14 !
.
All Levels, Ages, Women and Men are Welcome!
The current age range stretches from the early 60s until mid-80s.
.
.
.
.
.
My classes consist of a combination of (1) Pilates Exercises (2) Balance Practice
(3) Flexibility Exercises and (4) a bit of Mobility.

1. Active & Energetic – Over 60s and Senior Classes are ideal for members of any "Active Retirement Group" and
take place:
1.1 Thursday Morning 10am-11am
1.2 Thursday Morning 11.30am-12.30pm
.
2. A new block of classes:  >> starts early/mid March 2023<<
Book early – as places are limited to 8-10 participants per class.
.
3. Various Small Equipment will be provided:
E.g. Pilates Circles / Rings, Foam Rollers, Spiky Balls, Gym Stick etc..
Can you think of anything else that we could use in (y)our classes?
.
4. Class Size: Small classes 8-10 participants maximum, allowing individual attention, feedback and learning.
.
5. Venue / Location:
Taney Parish Centre, Dundrum, Dublin 16, within walking distance to the LUAS Bridge Dundrum and the old Dundrum Shopping Centre.
The class venue is near Goatstown, Clonskeagh, Windy Arbour, Mount Merrion, Churchtown, Nutrgove, Rathfarnham.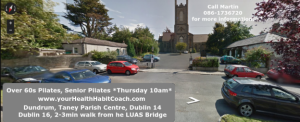 6. Else:
I assume you don't have any major back issues or other major health issues.
Contact Martin if you have any questions and we can discuss various options.
7. Class / Course Prices:
Payments can be done
(1) cash
(2) via cheque (please issue the cheque to "Fitnecise") or
(3) via a credit card and Visa debit card below (**a small card transaction fee applies)
8.1. 4 Week course – €55.00 – 4 consecutive classes – non-refundable 
8.2. Booking Deposit – €30.00 non-refundable
8.3. Drop-In, Pay-As-You-Go – €15( if availability allows, please contact us before you plan to come along )
8
6.4. Join Anytime (pro-rata if a 7-week course has already started)
Please fill out a health screening form before you join and bring it along to your first class.[fullstripe_checkout form="7weekPilatesCourseNEW_2018″][fullstripe_checkout form="DepositPilatesNEW_2018″][fullstripe_checkout form="PilatesDropIn15″]
Join Anytime!
Contact – Martin  for further information or with any questions you might have.