Contact Martin today to learn more about *Online One-to-One* or In-Person Personal Coaching Classes/Sessions in February 2021
to Get Fitter, Stronger, Increase your Flexibility, Mobility and Boost Your Energy! >>to read more - click here !<<

All local In-Person *Group* Pilates Ćlasses are put on hold due to the Ireland's Covid-19 Risk Level 5 guidelines.
Local South Dublin Pilates Classes will restart once restrictions are lifted.
In the meantime click here to >>> Book a *FREE Trial Online Pilates Class* on my Partner-Website <<<

---
1. Wednesday Morning – Pilates Classes 10am-11am
Beginners & Intermediate Level Pilates Classes
.
Try or sample my classes anytime in January 2021!
The classes are open to all Levels, Age Groups, Women & Men are Welcome!
.
2. Class Size: Small classes 8-10 participants maximum, allowing individual attention, feedback and learning.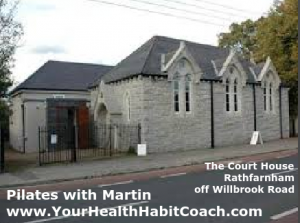 3. Venue / Location:
Parish Pastoral Centre, Parish of the Annunciation (The old Court House) off Willbrook Road, near the Yellow House Pub, Dublin 14, D14, Rathfarnham.
(Find a map at the bottom of this page)
>
4. A *new* 7-week course starts: >> once Covid-19 restrictions allow << 
in the meantime check my
>>> Live – Online Pilates Class website and try *a FREE TRIAL CLASS at* https://www.pilatesonline365.com/ click here !
.
5. Various Small Equipment will be provided:
E.g. Pilates Circles / Rings, Foam Rollers, Spiky Balls, Gym Stick etc..
Can you think of anything else that we could use in (y)our classes?
6. Else:
I assume you don't have any back issues or other major health issues.
Contact Martin if you have and we can discuss the options.
7. Class / Course Prices:
Please Contact Us and check for class availability before purchasing or paying online.
.
Payments can be done
(1) cash
(2) via cheque (please issue the cheque to "Fitnecise") or
(3) via a credit card and Visa debit card below (**a small card transaction fee applies)
6.1. Drop-In, Pay-As-You-Go – €15 ( if availability allows, please contact us before you plan to come along )
6.2. 7 Week course – €95 – 7 consecutive classes – non-refundable 
6.3. Booking Deposit – €50– non-refundable
.
6.4. Join Anytime (pro-rata if a 7-week course has already started)
Please fill out a health screening form before you join and bring it along to your first class.
..
Contact – Martin  for further information or with any questions you might have.