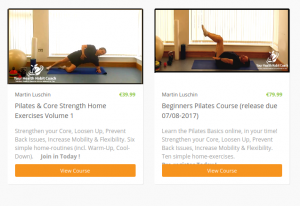 .
In the next few days, today is Tuesday 14th June 2017, I'm going to release my first short online Video course. The initial course will enable your to do various Pilates exercises in your own time, you have the freedom to choose where and when you want to do them.
This Online Pilates Course includes:
1. Six Pilates & Core Strength Exercise Video Combinations
2. detailed verbal descriptions of the movements and exercises
3. lists of benefits of each exercise.
Keep in mind that this course is *not* for Beginners or anybody with back issues.
.
Check this website out for details and a Free Trial >>> courses.yourhealthhabitcoach.com !
.
I'm already in the planning phase of a pure "Online Beginners Pilates Course", which I hope to release sometime between the end of July 2017 and mid August 2017.
I will post a link to the course here once I have finalized it.
Yours in Health & Fitness
_ Martin