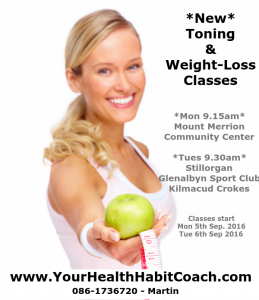 Tone-up, Get Fitter – Trimmer & Slimmer with our *new* Toning & Weight-Loss Classes
in Glenalbyn House / Sports Club, Kilmacud Crokes, beisde Stillorgan Shopping Centre, South Dublin in September 2016.
The Glenalbyn House is only two or three minutes walk from Stillorgan Shopping Centre, Tesco's, around the corner from KBC Bank or Reads printing, the stationary shop,  just off the N11.
Stillogan is close to Blackrock, Deansgrange, Foxrock, Goatstown, UCD, Leopardstown, Sandyford, Deansgrange and Cabinteely.
We combine different body-weight exercises, simple Kettebell movements and will include some Core Strength and Pilates movements as well.


.

All helping you to tone your legs, thighs, hips and arms !!!


.
Toning & Weight-Loss Class details:


Start Date: 6th September 2016
Time: Tuesday 9.30m-10.30am
Booking is essential as places are limited
Class / Course Fees: Payments can be done
(1) cash
(2) via cheque (please issue the cheque to "Fitnecise") or
(3) via a credit card and Visa debit card below (**a small card transaction fee applies)
5.1. Drop-In, Pay-As-You-Go – €12 ( if availability allows, please contact us before you plan to come along )
5.2. 6 Week course – €60 – 6 consecutive classes – non-refundable
5.3. Booking Deposit – €30 non-refundable


.

Join Anytime (pro-rata if an 8 week course has already started)
[fullstripe_checkout form="6ToningClasses"][fullstripe_checkout form="DepositToningClasses"][fullstripe_checkout form="OnceOffToningClasses"]