Yesterday I got talking to one of the corporate gym members in Ulster Bank's gym in Central Park, Dublin 18 during my work-shift.
Maura (I changed her name in this article) a South Dublin based mom of two active teenagers asked me what classes I'm teaching at the moment in their corporate gym. She was also wondering if I think she will be able to do the exercise classes with the shoulder issue, that she is having for over a year by now. My initial reply was …. it depends on yourself and that I can show her various alternative exercises during the class for movements that she is not keen on doing.
The original reason for her shoulder issue was that she herself or/and a fitness instructor in a class pushed her too much, so she overdid various exercises leading to a longlasting injury.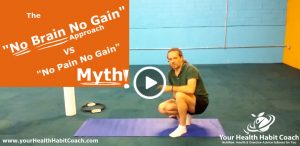 This was a year ago, and since then she wasn't able to exercise regularly at all. She finds that very very frustrating, and as a side-effect, she put on a good bit of weight. That weight gain frustrated her even more, plus she just doesn't feel mentally right if she can't exercise on a regular basis. She described being physically active and exercising regularly very important to her mental health, as it allows her to switch off and recharge. Plus exercising regularly gives her the energy to face a lot of day to day challenges in work and with her teenage children with a clear and calm head.
I hear similar stories, like Maura's, disappointingly often from various class participants, personal training clients, friends and neighbours.
A certain amount of exercise and fitness class instructors, as well as the general population, believe they have to push, challenge and exhaust themselves so much during exercise that they have to be in agony and pain the next day or after the class. Following the old and in my opinion outdated phrase "No Pain, No Gain".
I recommend the following approach "No Brain, No Gain". Followers of the "No Pain, No Gain" way of doing things – sometimes can't walk down or up the stairs, can barely raise their arms or their stomach/abs hurt when laughing (due to overworked abs) after one of these extreme classes or training sessions.
To what does the "No Pain, No Gain" way often lead? To injury as in Maura's case above, to more missed exercise sessions (as you just aren't able to work-out due to agony and pain), to frustration, sometimes even weight-gain and "fitness loss", because you just can't be active after a "No Pain, No Gain Session".
My approach in working with individuals is to challenge personal training clients and class participants so that they feel and recognize that they have done an exercise session or class. There might be a slight niggle or a small bit tension in certain body parts, but even that shouldn't be there if you did a proper cool-down, a bit of stretching and loosening at the end of your training.
At the same time the personal training clients or class participants can
(1) work out again and improve their health and fitness the next day or two days afterwards and continue to do so,
(2) even more importantly they can do the things they have to do throughout the next one to two days in work or at home e.g. playing with your kids, going for a social walk with your parent or friend, bring your dog around the block and
(3) they have the energy and enthusiasm to do all those things.
Here – 5 ACTION STEPS – that you can take now, to apply my "No Brain, No Gain" approach:
1. Plan your exercise or physical activity week in advance e.g. on a Sunday afternoon or Sunday evening. Write fixed appointments into your weekly diary e.g. Monday evening 6-7pm Jog / Run for 20mintues in the local park, Wednesday morning 7am do a 30min Body-Weight Training Session at home in the garden or the living room. Tick those activities off – once done and be proud of yourself once you have done your exercise.
2. Think about, choose intentionally with which intensity you do your activity, exercise or group class. Don't get lured into pushing yourself over your current limits (to avoid unnecessary agony) and stick to your initial plan. Only you know what the right intensity is for you.
3. Pick an exercise environment that allows you to switch off, get mentally and physically away from work or things that are going on at home. This might be a local park, a nearby gym, a relaxing garden, a quiet room in the house.
4. (This is what work for my and various clients for over two years) Try exercising without a headset, music or other distractions and try to focus on your exercise, your intent for exercising e.g. getting fitter, healthier, boosting your energy levels – switching off. I even go so for to put my phone on silent (if I have it with me at all 🙂 ).
5. Always stretch, cooldown for at least five, ideally ten minutes after exercising. This reduced the likely-hood that you are sore and allows you to relax even that small bit more.
6. Pick an activity or type of exercise you enjoy, as you are most likely to stick with it and do it regularly if you enjoy it.
7. Keep a Success and Progress diary in which you keep a record of your exercise intensity, what you do e.g. reps, sets, duration (e.g. bike, jog, run, weight, swim, play tennis, do bodyweight exercises), when you do, maybe even how you feel pre or post exercising. This will allow you to recognize progress and that you are getting better, that you are improving – as you review what you have done and achieved, on a regular basis.
Let's get going and get
(1) your Success diary and
(2) start planning your next week(s) to get healthier and fitter!
(3) even do a 5-10min exercise session or at least go for a walk, jog or run 🙂
I hope you found this article useful, please like my facebook page to stay up to date with other articles and posts, leave a comment below or send me feedback so I can improve the services and classes that I offer you and others.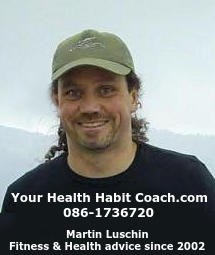 "Your Health Habit Coach"
Martin