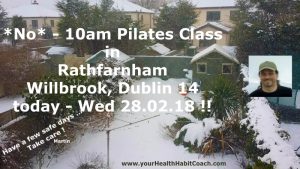 You can get
free access
 (
the coupon code is "snowpilates" 
) to my
short Online Pilates Video Course
until Monday 5th March 2018 (normally €39.99)
in exchange for some feedback after using the course for a few days
. I do this due to the weather conditions today – lots of snow, a bit of ice and the weather predictions for tomorrow/Thursday 1st March 2018 and Friday 2nd March 2018 here in Ireland / South Dublin.
This will
allow you
to
keep doing your Pilates, Stretching
and
Mobilizing exercises
, especially as some of you were or are missing the classes that or normally no at this time of the week, due to the snow and ice.
No excuses
lets get moving
, to
stay fit
and
healthy
!
.
In the
video below
you
see how to apply the *coupon code*
and
get *free access*
 to these
videos until Monday 5th March 2018
.
My Fitness and Pilates course website is 
http://courses.yourhealthhabitcoach.com
You can
do these Online Pilates Video Sessions
at (1) 
home
or (2) 
on the go when travelling
for work or leisure, in your (3) 
local gym
etc.. You can
use your tablet
,
phone
,
laptop
or
desktop
to
access the course
video lessons.
.
I was in contact with Taney Parish Centre, Sandyford Community Centre and Glencullen Community Centre / GAA Start of Erin Hall … all venues are closed on Wednesday evening, Thursday and Friday (28th February, 1st March and 2nd March) according to the centre managers.
.
Take care, stay safe during this hopefully short cold wintery weather spell and keep active … and
maybe see you during one of my indoor or outdoor classes.
Martin